A Bit Of Fun
Special Offers & FREE Stuff
Sign up
and you'll be the first to know of any
Special Offers
I am running as well as any
FREE stuff
that I'm giving away.
PS: I hate SPAM too so promise not to send any!
The Staying Organized Survival Guide
*** Now a Number 1 Best Seller! ***
Do you know HOW to get organized but just cannot STAY organized?
If so, then my new book The Staying Organized Survival Guide will be perfect for you.
Learn how to get the organizing habit and spend just 15 minutes per day staying on top of your clutter.
Paperback version coming February 2013
Cute Animals Help You STAY Organized
Don't Miss My Recent Stuff
Get Set Organize Recommends Amazon
Unless otherwise labeled, all product links will take you to amazing deals on Amazon.
Welcome To Get Set Organize!
Hi, I'm Chloe.
My aim for this website is to bring you "simple steps that work" to help with all your organizing needs.
I'm just an ordinary person like you, going on an organizing journey. Please join me.
But first, if you like, you can learn more About Me and my promise to you.
If you would like to get in touch with your story, please Contact me today.
Quick Survey
Loading ...
How To Get Organized
Get Motivated To Organize
In 9 easy steps
Being motivated is the key to getting organized. Here are 9 simple steps to follow to guarantee success.
Stay Motivated To Organize
The 3 golden rules
Don't spend weeks organizing your home, only to let it all slide later. Learn how to stay motivated forever.
How To Start Organizing
6 Roadblocks to getting started
If you read a lot about getting organized but can't get started, here's some help with how to overcome your roadblocks.
How To Get Organized Easily
5 Common pitfalls to avoid
You can spend hours trying to get organized but if you don't avoid these common mistakes, you will fail.
Get Organized & Save $000s
$2000 in the kitchen alone
Does this sound impossible? Well check out our research and see for yourself. Save by decluttering, planning and much more ...
Helpful Links
For more organizing websites that we like, please check out these
helpful links
.
Is This You?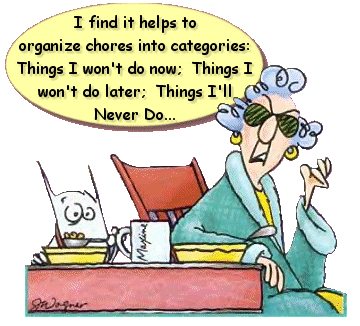 Please also check out our
'A Bit Of Fun'
section.